Pumpkin Spice Pancakes Topped with Candied Pecans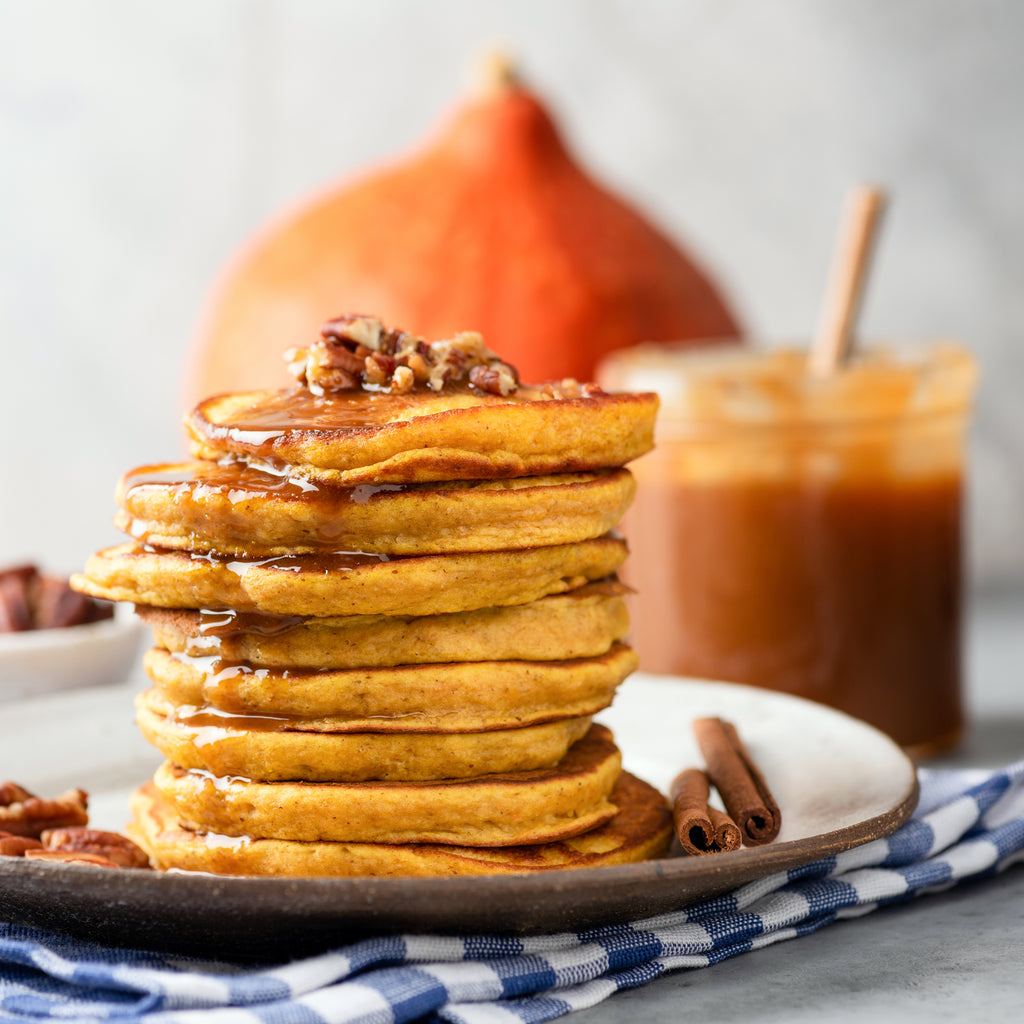 Pumpkin Spice Pancakes
We love to make these pancakes in the Fall and enjoy them all the way through Winter.   They are hearty, fluffy and almost impossible to eat just one!
Recipe adapted from Ruth at allrecipes https://www.allrecipes.com/recipe/17036/pumpkin-pancakes/
You'll need:
1 1/2 cups Milk
1 cup pumpkin puree (we love to use fresh, but canned does the trick!)
1 egg 
2 Tbsp vegetable oil
2 Tbsp vinegar
2 cups all-purpose flour (we substituted Cup-4-Cup to make it GF!)
3 Tbsp brown sugar
2 tsp baking powder
1 tsp baking soda
*1 tsp ground all spice
*1 tsp ground cinnamon
*1/2 tsp ground ginger
1/2 tsp salt
Optional: 1 cup Black Bow Sweets candied pecans for topping
Optional: pure maple syrup or butter to top
*You can substitute the individual spices for 2 tsp pumpkin spice
To prepare:
In a bowl, mix together the milk, pumpkin, egg, oil and vinegar.

Combine the flour, brown sugar, baking powder, baking soda, allspice, cinnamon, ginger and salt in a separate bowl. Stir into the pumpkin mixture just enough to combine.

Heat a lightly oiled griddle or frying pan over medium high heat. Pour or scoop the batter onto the griddle, using approximately 1/4 cup for each pancake. Brown on both sides and serve hot.

Top with Black Bow Sweets candied pecans, syrup and/or butter.  (We also added an extra dash of cinnamon on top!)
Pro tip: Batter will be thick - instead of using liquid to thin it out, scoop out 1/4 cup of batter onto griddle and spread it out with a spatula. This will keep any extra liquid from drowning out the pumpkin flavor.